THANK YOU TO WORLD LITERARY CAFE FOR THE FOLLOWING FREE EBOOKS:
Book 1
Year of the Chick by Romi Moondi (Already Free)
An awkward family homecoming at Christmas.
A humiliating public weigh-in, with two judging parents as the audience.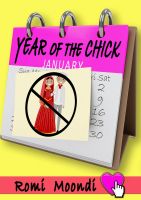 The announcement of a deadline for arranged marriage doom.
And that's just the first two chapters.
In "Year of the Chick," Romi Narindra must find love before her parents find her a husband. This is a difficult task in a world where self-consciousness is at an all-time high, and dating experience at an all-time low. It's the sort of thing that would turn anyone into a man-crazy freak with romance tunnel-vision, and that's exactly what happens to Romi.
Severely lacking in seductive skills and uninspired by her corporate job, Romi turns to what she loves, by writing about her quest to find love on her brand new blog.
From whiskey-breath scum bags to uni-brow creeps and everything in between, Romi and her wingmen come up empty time after time. Just when giving up seems like the thing to do, she meets a fellow writer unexpectedly.
On the Internet.
So will it be arranged marriage doom, or an Internet affair that's not as creepy as "To Catch a Predator"?
Time will tell in the "year of the chick," a twelve-month quest to find love….tick-tock.
Book 2
Scent of Triumph by Jan Moran
Scent of Triumph is the story of Danielle Bretancourt, a talented young French perfumer with a flair for fashion and a natural olfactory gift. In the language of perfumery, she is a Nose, with the rare ability to recognize thousands of essences by memory. The story opens on the day England declares war on Germany, and Danielle and her family are caught in the midst of a raging disaster sweeping across Europe.
Her life takes a tragic turn when her husband and son are lost behind enemy lines. She spies for the French resistance, determined to find them, but is forced to flee Europe with fragments of her family. Destitute, she mines her talents to create a magnificent perfume that captures the hearts of Hollywood's top stars, then gambles again to win wealth and success as a couturier. Her intelligence and flair attracts the adoration of Jonathan Newell-Grey, of England's top shipping conglomerate, and Cameron Murphy, Hollywood's most charismatic star.
Danielle charts her course through devastating wartime losses and revenge; lustful lovers and loveless marriages; and valiant struggles to reunite her family. Set between privileged lifestyles and gritty realities, here is one woman's story of courage, spirit, and resilience.
Download for the Kindle or Nook– Right click on link and download or 'Save As'
—–
———————————————————————————————————————