THANK YOU TO WORLD LITERARY CAFE FOR THE FOLLOWING FREE EBOOKS:
Book 1
Charmeine by Emily Guido (COUPON CODE: HB94P)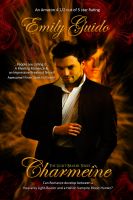 Can romance develop between a Heavenly Light-Bearer and a Hellish Vampire Blood-Hunter? "Charmeine" is the First Novel in "The Light-Bearer Series."
Tabbruis is an extremely attractive Blood-Hunter and drinks blood to survive. Over millennia Tabbruis has wandered the Earth alone aimlessly living through many historical events. Charmeine just came to the Earth in 1997, unable to remember anything.
When Tabbruis meets Charmeine the attraction is immediate, romantic and passionate.
They are polar opposites and clash together in a dramatic way.
Charmeine's power as a Light-Bearer, one who throws lightning, is triggered when she meets Tabbruis, and it grows exponentially.
Will Charmeine and Tabbruis fulfill their destinies? Will they realize their importance in both the Blood-Hunter and Light-Bearer world?
"Charmeine" is an action-packed emotional roller-coaster of passion and fury!
Book 2
The Obsession by T.V. LoCicero
At a conference in Italy's lake district, American graduate student Stanford Lyle is enchanted with Lina Lentini, a lovely Italian professor of comparative lit. And when she lectures for a term at his mid-Michigan university, she considers a fling with Stan—until she meets John Martens, a professor, author and Stan's mentor. In her passionate affair with John, Lina becomes Stan's obsession, a hated nemesis for John's troubled wife, and the object of a vicious series of attacks aimed at destroying her reputation.
Lina loves the line from Keats, "Beauty is truth, truth beauty," even as her life fills with duplicity. John is pledged to do the right thing with his wife but often does not. And Stan surprises himself with the depth of his own perversity.
Forced back to her home in Bologna, Lina begins to reset her life. Then Stan appears on her doorstep. When John joins them, Stan schemes, threatens and stalks the lovers, first under the city's ancient porticoes and finally to the legendary Sicilian mountain town of Taormina with a shocking confrontation on the slopes of volcanic Mt. Etna
Download for the Kindle or Nook– Right click on link and download or 'Save As'
—–
———————————————————————————————————————